If your business owns premises then it's important they're equipped in the best possible way. Choosing the interior, including the wall coverings and flooring is a big decision to ensure your business is presented in the best possible way. You may not realise but the options you make will have an impact on your business as the type of flooring you choose for example will have need maintaining and potentially replacing in the long-term. Where carpets need cleaning and wooden floors need regularly maintenance, the best business option is polished concrete flooring.  
Polished concrete flooring is a sensible business investment for your premises and there are many reasons for this, which we've detailed below.
Versatility
Concrete isn't just the material you see on the pavement. It's an extremely versatile material that can be modified, polished and epoxy stained. Good quality concrete floors can look as good as any other material and have even been compared to marble by some satisfied customers. The versatility of the material means it can be used throughout your premises from offices to reception areas and even shop floors.
Concrete can also be easily customised in decorative ways, such as showing your company logo or mimicking the style of another material such as marble.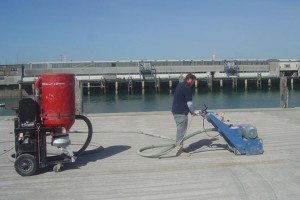 Affordable
If you're a start-up business or just purchasing your first property then you'll want to be cutting costs and ensuring everything you do is cost-effective. Initial expenses need to be low to give your business the best chance of success and polished concrete flooring is extremely cost effective. It's much cheaper than marble or granite or even wooden alternatives and it can be made to look just like these types of flooring in some instances, but you'll have saved money.
Durability
Sometimes the cost effective option isn't always the best as it means the lifespan of the product is shorter. This isn't the case with concrete flooring as it's also very durable as well as affordable. It's very unlikely to chip or crack if you drop something on it and this basically means that it will be much longer before you need to think about replacing your floor.
Easy Maintenance
Polished concrete is completely flat and is a non-absorbent surface which means it only requires basic types of cleaning. A buffering machine is great for keeping it shiny and you can also simply use a dustpan and a mop to keep it clean on a day to day basis. In a few short minutes you can get the floor looking fantastic.
Impressive
A great looking shiny polished concrete floor makes a great impression on your staff and clients. Whilst carpets often become worn out and threadbare very quickly, a concrete floor continues to look fantastic throughout its lifetime. The most basic maintenance can ensure your floor always looks at its best and creates a great impression for potential clients visiting your premises.
Choosing polished concrete flooring for your business represents a positive business move and gives you the chance to make savings without compromising on quality.
Harry Michaels has worked in the flooring industry for over 20 years. In his time he's had the chance to work with some industry leaders such as Quest Ltd Flooring Specialists.